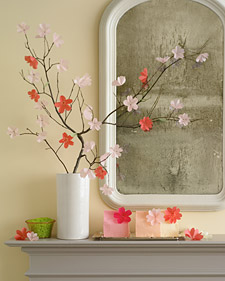 Cherry blossoms are a beautiful sign of spring across the US. The problem with cherry blossoms is that's the only time you can briefly enjoy their beauty! This makes it hard for anyone who wants them for their wedding in say..December. I found a solution to that problem with do-it-yourself blooming cherry blossom branches that would be absolutely perfect for centerpieces and decor! These flowering branches are also extremely affordable, since they consist of branches cut from your yard (or a friends!) and some vellum paper. What's also neat is you can put your own twist on the blossoms, possibly coordinating the colors from the usual pink and white to colors of your wedding! Whether you want to create traditional blossoming branches, or change it up a bit with unique colored blooms..here are the instructions!
Branches to attach blooms to
Vellum Paper in Color(s) of your choice (tissue paper works too if you cannot find vellum, it will just be more fragile!)
Next is to create the blooms!
Start by cutting your vellum paper into 3.5 inch and 4.5 inch squares.
Each square is folded into a flat cone, following the image below.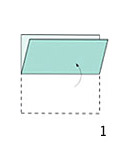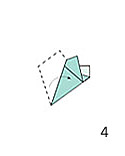 Use scissors to make four angled cuts to remove the top of the cone.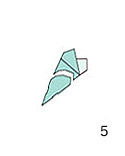 4. With your utility/craft knife, carve out a small rectangular sliver on each side of the cone(s). Snip off a tiny bit of the pointed tip of the cone, and unfold and shape the paper to create a blossom.
5. Take your branches and gently poke blossoms onto the branch tips. You can add a little bit of glue to each blossom to make the blooms a bit more secure on the branch.
6. That's it! Now all you need to do is find a pretty vase or container and anchor the branch(es) inside it with pebbles, crystals or stones.
Whether you use these branches on every table for a centerpiece, or here and there around your ceremony/reception venue..your guests will be impressed by their beauty. They'll be even more impressed to know you created them yourself!!
Also, if you love the look of the blossoms, but don't want to attach them to branches, there are a couple other ways you can incorporate them into your big day. I thought it could look really beautiful to gently thread your blooms through colored ribbons or string and hang them from the ceiling. It would be like the gorgeous raining orchids seen in a lot of celeb weddings..only with your adorable (gorgeous!) handmade cherry blossoms. Another idea would be using the blossoms to decorate your favors! Using a hole punch, punch a hole in one folded corner of the blossom, insert a brad and thread with string or ribbon. Attach to your favor bag, tin..basket..whatever you like! Lastly, and probably most simply..scatter your little blossoms around tables for an additional wedding decor detail guests will love.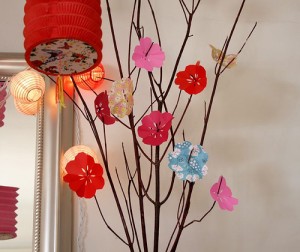 courtesy of DIY Wedding Projects